Report on visa cancellation processes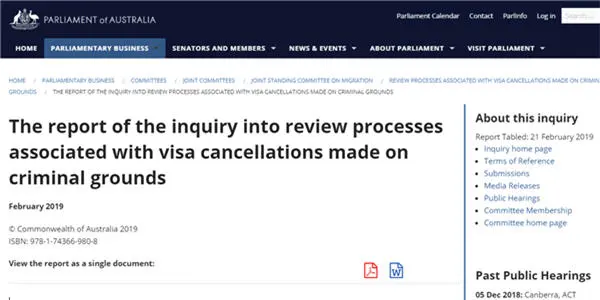 Oz Kiwi and the NZ High Commission to Australia feature in the Joint Standing Committee on Migration report on the processing of visa cancellations.
On 21 February 2019 the Australian House of Representatives' Joint Standing Committee on Migration released a report on its inquiry into the Review processes associated with visa cancellations made on criminal grounds. The review covered visa cancellations under section 501 and section 116 of the Migration Act (1958).
The report has made two recommendations that are positive for Kiwis living here:
the lack of a pathway to citizenship for many New Zealanders facing deportation should be considered when visa cancellations are being decided; and
any New Zealanders who complete four years of secondary education in Australia should be eligible for a student loan.
Oz Kiwi made a submission to the inquiry, as did the New Zealand High Commission to Australia.
On 24 July 2018 Oz Kiwi Deputy Chair Joanne Cox appeared at the Committee's Melbourne public hearing.
A transcript from the Melbourne hearing, with Oz Kiwi's testimony beginning on page 5.
Representatives from the New Zealand High Commission gave testimony on 12 September 2018 in Canberra.
Oz Kiwi and the former New Zealand High Commissioner to Australia Chris Seed are quoted throughout the report, particularly in Chapter 3 Future directions for merits review, from page 53.
There is a section in Chapter 3, Impacts on New Zealand citizens, pages 58 - 63 that addresses the particular issues Kiwis face.
Recommendations:
The report contains two recommendations of particular interest to New Zealanders:
3.61 The historic special immigration status of New Zealand citizens, and its impact on take up of citizenship in Australia, to be a secondary consideration in reviewing character cancellations [except for violent/sexual/child abuse crimes].
3.62 Young people permanently living in Australia who complete four years of higher education in Australia be eligible for HELP.
Access the Joint Standing Committee on Migration's report.